3D printing has changed the dental industry indefinitely. Innovation by companies like Align Technologies has certainly set a precedent for clear aligner therapy. In fact, 3D-printed clear aligners are still used by major aligner companies, including Invisalign®, ClearCorrect®, and most recently, the Smile Direct Club®.
As dental professionals, you already know there are limitations to 3D-printed plastic aligners. At Orthosnap, we understand this too. That's why we produce clear aligners without the use of 3D printing technology.
Let's take a closer look at some of these drawbacks and explore alternative solutions that can help your patients achieve and maintain straighter, healthier smiles.
Striations in Clear Aligners
One major drawback to 3D-printing teeth aligners is striation. Due to the manufacturing process of printed aligners, there is a higher risk for opaque lines. This leads to less-than-desirable aesthetics for those who want truly clear aligners.
Inaccuracy of 3D-Printed Aligners
Technological advances such as CAD/CAM have changed the world of dentistry as we know it, making several treatments faster and more convenient. 3D printing has always been monumental in the clear aligner manufacturing process, due to its high speed. Today, the majority of clear aligners are still produced using 3D-printed molds.
The problem with 3D printing is that accuracy is sacrificed with each stage. In other words, the dimensional inaccuracy is compounded every time a new aligner tray is fabricated. This is why clear aligner therapy is not recommended for every orthodontic case. There are simply some cases in which alternative treatments are superior.
When should I consider alternate solutions?
If you provide clear aligner therapy in your practice, you already know it's not a one-size-fits-all treatment. Here are a few situations in which we recommend seeking alternative solutions:
Teeth that are severely rotated by more than 20 degrees
Large gaps or spaces measuring more than a total of six millimeters per arch
Teeth that are severely tipped by more than 45 degrees
Overcrowding in which over six millimeters per arch would be necessary to properly realign the teeth
Skeletally based malocclusions
Cases in which extrusion is required
Are there options besides traditional braces?
In some instances, traditional metal braces are the best orthodontic care solution – particularly if the malocclusion is attributed to skeletal discrepancies. But are there other options?
Orthosnap manufactures clear aligners from the same original cast. Each tooth is held in place with a dynamic pin, which is moved to the desired location before each impression. Rather than relying wholly on CAD/CAM technology, Orthosnap also utilizes the human touch, giving clients the best of both worlds.
Benefits of Orthosnap Aligners
There are a number of advantages that Orthosnap offers over traditional 3D printing orthodontic aligners. Here are some of the most notable:
No striation: Due to the patented manufacturing process, Orthosnap aligners do not have striation marks like ones created with 3D printing.
Higher accuracy: Because Orthosnap uses dynamic physical models rather than 3D printing models, the aligners are created with higher accuracy.
No upfront costs: Rather than pay thousands of dollars upfront, dentists can pay for the Orthosnap system in phases. In other words, you'll only pay for the aligners you use.
Fewer invasive procedures for complex cases: Orthosnap is more accurate and can therefore treat a variety of orthodontic conditions. In many instances, patients can even reduce the need for invasive procedures.
More comfortable fit: Higher precision means a better fit. In turn, a better fit leads to optimal patient compliance.
Beyond Machines: The Human Touch Customizes Orthodontic Aligners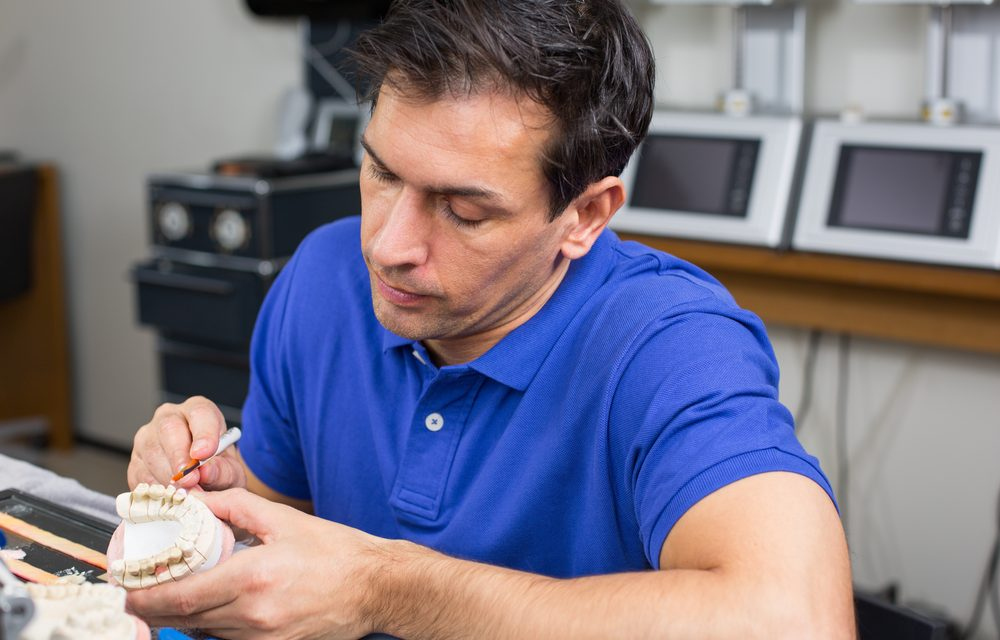 Patients of all ages are increasingly motivated by the notion of clear aligners. These individuals are not keen on wearing traditional metal braces, and they largely reject the idea of conventional orthodontic treatment for aesthetic reasons.
Unfortunately, aligners produced by leading providers, using 3D printing, have several limitations that make them less than ideal for a number of treatment cases. Why? These companies use CAD/CAM for the fabrication of their orthodontic aligners, all of which are created from the patient's initial digital impression images.
Orthosnap creates every tray from an original cast without the use of 3D printing, eliminating common issues and limitations in the CAD/CAM process.
Clear Aligners before Computer Technology in Dentistry
Before the sophistication of computer technology in dentistry, several doctors worked to introduce the idea of straightening teeth with invisible retainers. However, because digital impressions had not been invented yet, new Essix retainers were created at every dental visit. As you can imagine, this process was incredibly time-consuming.
With the introduction of Invisalign in 1997, CAD/CAM technology (3D printing) changed the world of orthodontics. Instead of crafting a new set-up for every new aligner, Invisalign trays could be created digitally, saving doctors a tremendous amount of time and money.
Advantages of CAD/CAM Technology for Clear Aligners
It's easy to see why so many providers love the idea of CAD/CAM-created aligners. After a single set of digital impressions have been taken, those images are then used to manufacture every single set of orthodontic aligners in the treatment sequence. The design of each tray is based on the treatment recommendations set forth by the dental provider.
Clinical Limitations of CAD/CAM Technology For Dental Aligners
CAD/CAM technology has become irreplaceable for a number of procedures, especially in the field of prosthodontics. These methods have proven quite successful for restorations such as crowns and bridges.
Unfortunately, CAD/CAM leaves a lot to be desired when it comes to the fabrication of orthodontic aligners. For example, the 3D printing multi-step process utilized by other clear aligner companies leads to cumulative flaws that result in an inaccurate fit and less-than-perfect treatment outcomes.
These limitations are even noticeable on many of the aligner trays used today. For instance, because it is not yet possible to 3-D print angled surfaces, the trays often have visible striation lines. Over the course of treatment, these minor inaccuracies add up. That is why Orthosnap utilizes human hands where technology falls short.
The Orthosnap Process
While digital impressions are certainly more convenient compared to conventional ones, physical impression molds offer unparalleled precision. That is why we begin the Orthosnap process with a cast model of the patient's teeth.
The model is mounted into an articulated bite and each tooth is separated and placed on a movable pin. Each movement in the treatment plan is achieved by moving the pins, and every aligner is crafted on the original cast model. This process not only delivers aligners with a superior fit but also trays that are more transparent than our competitors.
Don't Cut Corners for Convenience
At Orthosnap, we treasure the value of technology. But we also understand that there are some areas in which the human eye still prevails. We fully anticipate embracing advanced technology as it emerges and utilizing it as an important aspect of our work.
Contact Orthosnap to Learn More
If you are interested in learning more about Orthosnap and incorporating our product into your practice, contact our office in Westbury, NY today. Give us a call at 516-506-7606 or schedule a meeting with our creator and founder, Dr. Yan Pogorelsky.